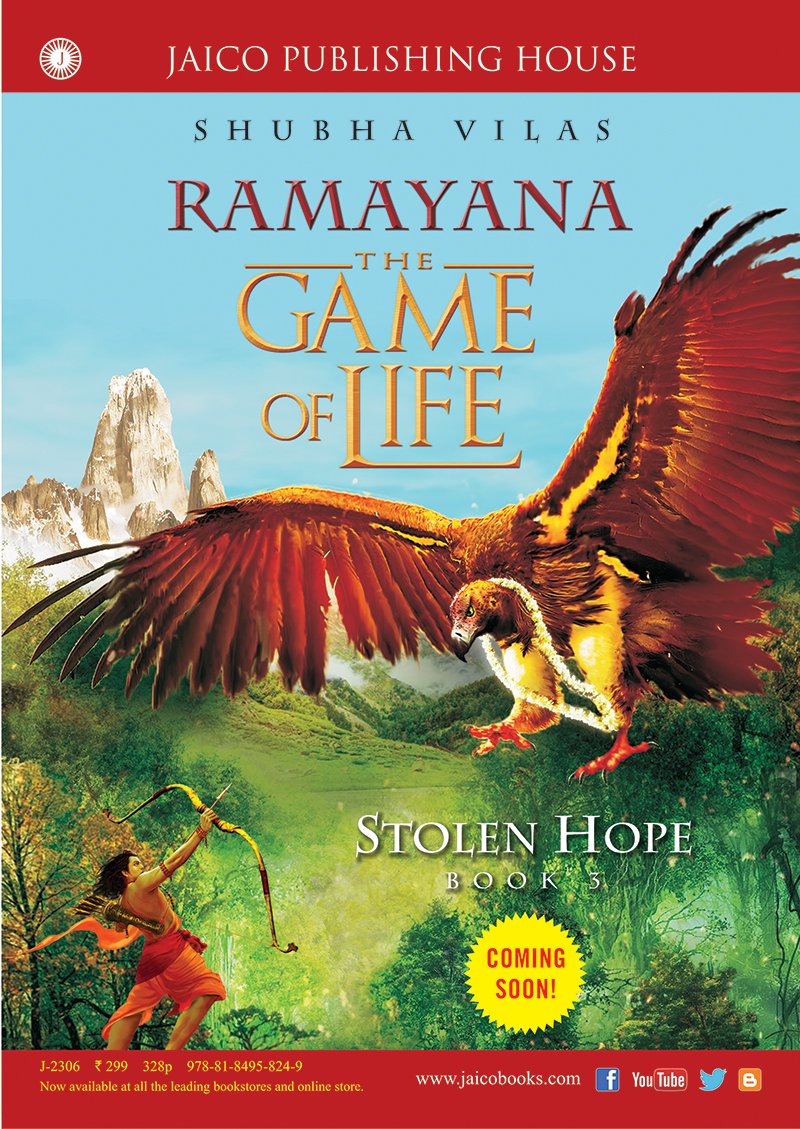 Book Review: Ramayana: The Game of Life Stolen Hope Book 3 by Shubha Vilas
*Publisher: Jaico Publishing House *ISBN: 978-81-8495-824-9 *No of Pages: 307 *Cover: Paperback *Language: English *Genre: Mythological / Religion & Philosophy / Self help *Price: 299 *Rating: 5/5
My view:
First of all this is not the first time I am reading this author Shubha vilas, I have already read his first two books among Ramayana series i.e. Rise of sun prince and Shattered dreams you will find both the review links here in this blog, and now about this book stolen hope is the third book among the Ramayana series. If you have not read the first two books then it doesn't matter, here in this book author have provided short description about both the books in introductory chapter.
Plot:
The story begins with Rama, Sita and Laxhman walks through the forest of Dandakaranya. Rama meets many sages through this forest and hearing the agony suffered by sages Rama vows to destroy every demon that have harassed this sages. All three moves to the south where they meet sage Agastya who live in Janathana, here they encounter with Surpanakha who proposes Rama to marry her, Rama does some mischief and diverts her to Laxhmana, Surpanakha doesn't cop her rejection and attacks them, Laxhmana chops her nose and ears. Angry with her insult she goes to his brother Ravana to attack this brother and abduct his beautiful wife Sita. Here Ravana travel to Janathana and abducts sita in his pushpak viman to his palace. Then Rama and Laxhmana begins their search of stolen hope (to search sita) were they meet Shabari. Shabari guides them to monkey like human Sugriva. The book ends here and keeps the readers desperate for the fourth part. Now I know that the fourth part will be of Hanuman so I am also desperate to read the forth book.
Now the writing style of the author is excellent, footnotes in every page are a plus point of this book which are ample ingredient for motivation and which transforms your way of thinking. Management students and HR managers should read all this three books were they can find solutions to cope with human relations. But let me clarify that this book is not only to HR or Management student but this is for every age. Our epic occurred 1000's year ago but still we can find solutions from them in this modern world. Also the book is awe inspiration for day to day life.
What I liked the most:
The bonding of Rama and sita is so perfectly articulated by author that we cannot find such couples in this modern world. Lessons from the Surpanakha episode. The story behind the fruit Sitaphal and reason behind monkeys don't eat them. And last but not least the writing style of the author is so good that the activities done by Rama, Sita and Laxhmana in forest sims like watching a sci-fi movie.
What I came to know:
Even though I know the Ramayana but after reading what I came to know that Rama never killed anyone in front of Sita, Laxhman never drawn any Laxhman rekha, importance of Chudamani for married girl and the invention of Tamil language. Suffering followed by Bharata when Rama was in exile for 14 years.
Some of the heart touching footnotes:
+ Responsibility is not a choice it's an honor. Page 46
+ Being a judge is a risky affair; surely someone will judge your judgment. Page 96
+ Life is a chewing gum that changes its flavor from sweet to bitter and bitter to sweet within moments. The moment you are comfortable, the taste switches. Page 202
+ A fish that swims on the surface is easily caught by the hawk of death. Similarly a man that floats on the surface of self-praise is certainly caught by the hawk of time. Page 212
I am reviewing 'Ramayana: The Game of Life: Stolen hope book 3'
by Shubha Vilas as a part of the biggest
Book Review Program
for
Indian Bloggers
. Participate now to get free books!
Book 1: Ramayana The Game of Life: Rise of Sun Prince by shubha Vilas
http://founttainofjoy.blogspot.in/2014/08/ramayana-game-of-life-rise-of-sun.html
Book 2: Ramayana The Game of Life: Shattered Dreams by Shubha Vilas
http://founttainofjoy.blogspot.in/2015/02/book-review-ramayana-game-of-life.html
Book Blurb:
In the evil labyrinths of Dandakaranya forest, human values are put to test. Rama's righteousness, Lakshmana's loyalty and Sita's endurance reflect our own sense of values and judgment in difficult times. The story unfolds the facets of human life – the conflict and the trickery, the praise and the slander and, above all, the hope and the despair in the eventful forest life of the Exiled Royals.
Stolen Hope is about extreme deception and extreme love. It is about arrogant power and deep devotion. With every twist and turn, Rama, Sita and Lakshmana find themselves robbed of whatever and whoever they value most.
Exploring the dynamics of human relations – between father and son, husband and wife, teacher and disciple – and the complex game of power and greed, Stolen Hope mirrors our own dilemmas in the modern world and teaches us how we must overcome them.
Seek courage when everything, including hope, is stolen.